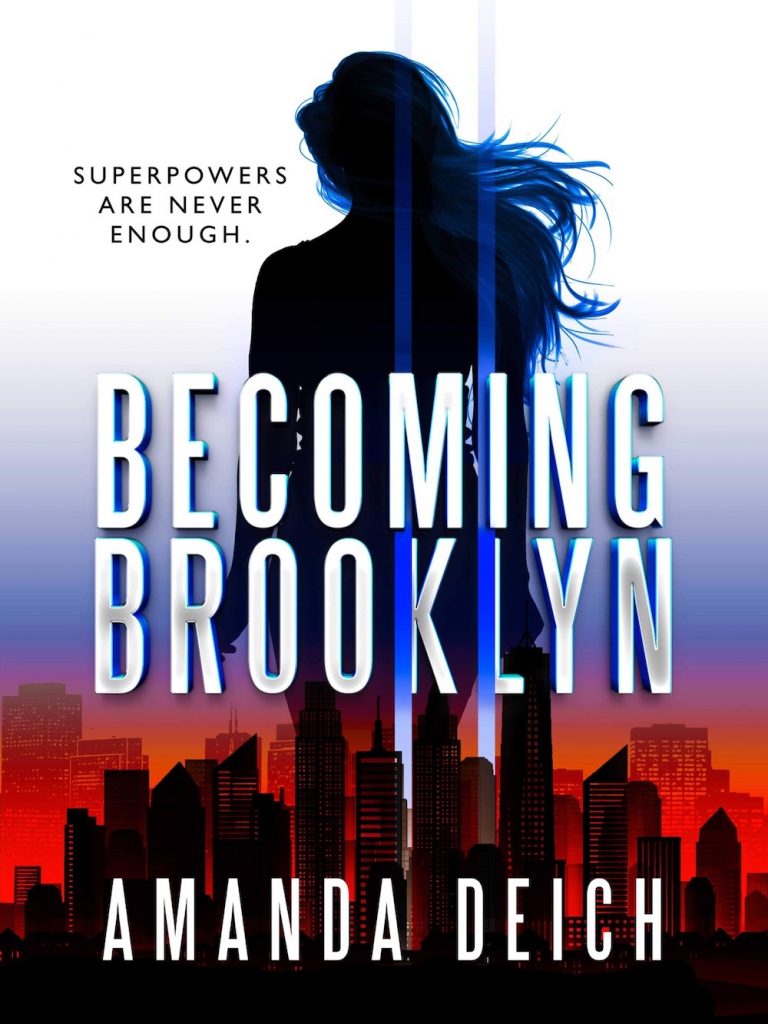 thank you to xpresso tours and the author for providing me with a digital review copy of this book.
---
---
Becoming Brooklyn Summary:
Becoming Brooklyn
Amanda Deich
Publication date: January 5th 2021
Genres: Contemporary, Science Fiction, Young Adult
Eighteen-year-old Brooklyn never knew her father. Rex Blackburn died in the 9/11 attacks four months before she was born.

And even though she never met him, she always dreamed about what he must have been like before he died. In her mind, he was a hero.

Little did she know.

After an attack at a 9/11 memorial gala, Brooklyn learns her father had been a member of an elite, anti-terrorism, military task force, made up of a very select group of people who had superhuman abilities. On the day the towers fell, he died using his power to save people.

The Army believes she inherited his gift, and Brooklyn is invited to train at West Point in order to hone her skills. Knowing deep down she is different than anyone else her age and wanting to learn more about a father she never knew, she readily agrees to become a cadet at the prestigious military academy.

She and five other 9/11 babies strengthen their superhuman abilities and spend weeks preparing themselves for their future in the army, fighting terrorists at home and abroad. And in the process of training, they identify with their deceased parents in a way they never knew they could.

Brooklyn knows she'll go to war someday, but when terrorists find out about the group's gifts, they don't bother to wait.

They bring the war to West Point.
Goodreads / Amazon / Barnes & Noble
---
the review
star rating
prior to starting becoming brooklyn, i was so excited to read this book. who doesn't want to read about superheroes??? i'll admit, it definitely wasn't like reading a marvel movie.
the good
we'll start easy, with the things i liked about becoming brooklyn. obviously the superpowers were a major win. although i was disappointed with what the powers were, it was still fun to read about. i enjoyed how well the "superheroes" were woven into history. although entirely make believe, it gives the reader the thought "was that actually real?"
the plot twist was unexpected, and i'm still trying to figure out how i feel about it. i was definitely left surprised when the spy revealed themselves. and personally, i actually agreed with a lot of what they said (in their "reveal speech"). they made many points, roughly about how the government is all powerful, corrupt, and controlling, which i agree with. they mention how the military forces it's people to do horrible things in the name of doing good, but it's actually not. Said character then proceeds to do horrible backstabbing things, and that's the end of any agreement i had with them. i was surprised by how relatable the villain was (in that moment).
the bad
now, for the things that i disliked. i'm sure this is something that i say in almost every review where the book has romance. instalove. can. we. not. compared to other books, this one was over the course of 2 months, which isn't so bad, but still. it's only been 2 months. calm down. you haven't even known the person long enough to discover their flaws, plus you can't even tell if your friends are trustworthy. idk, i just hate instalove.
aside from the romance, i felt that this book was written for teens ages 12-13 years, but it's marketed towards the older teen group, 16-18 year olds. i felt the characters lacked the maturity of the older age group, despite the fact that they were 17/18.
overall
overall, it was the storyline that really pulled this book through. it was so fun and easy to read. some scenes felt a little all over the place, but it didn't take away from the enjoyment of the story. (and my surprise shock when i felt more agreeable with the villain).
---
the author
Author Bio:

Amanda Deich is an author out of Littleton, CO. In her non-writer life, she is a teacher and coach to hundreds of kids, and she is a mama to two. If you meet her, she'll talk Jesus and identity like no one's business.
GIVEAWAY!
a Rafflecopter giveaway
Hosted by: