i received a copy of this book from the author, as part of this creative book tour.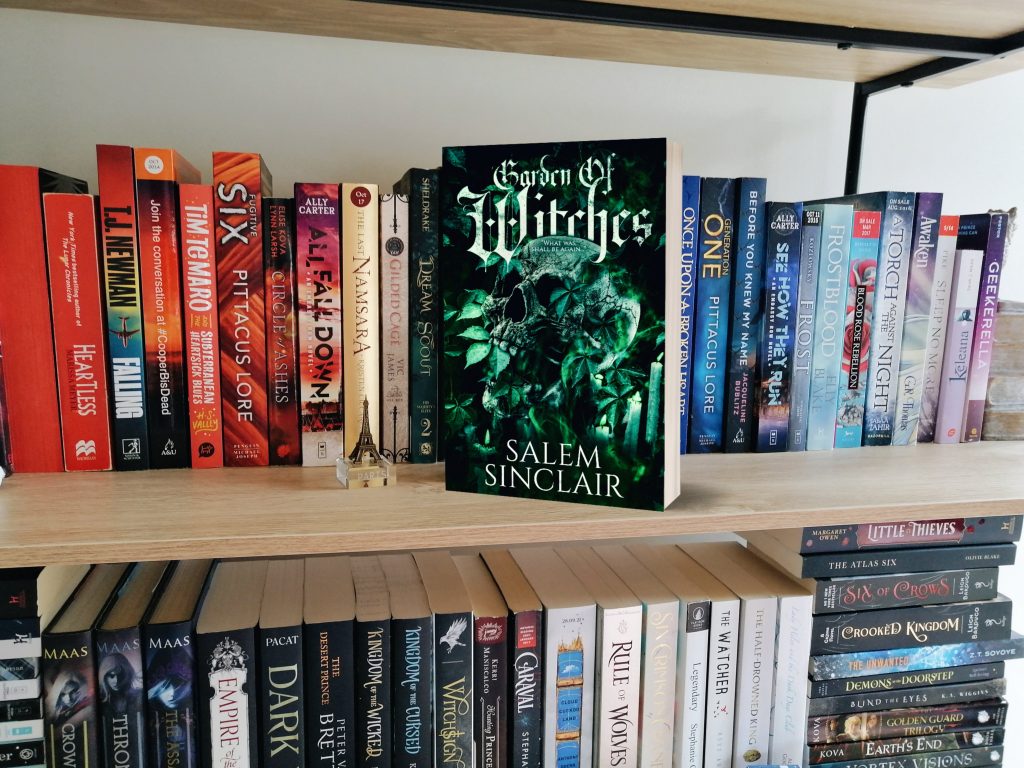 ---
summary
Ezra Bishop's life crumbles apart after a devastating loss, sending her and her twin sister across the country to a prestigious boarding school for bloodline witches.
Atwood Preparatory Academy seems like an ideal place for the sisters to attempt to restart their lives, but it isn't long before peace at the school is broken when one of the students goes missing.
One of many…
When someone close to her is threatened, Ezra is forced to face a mystery that has haunted the school for centuries. Unraveling the truth of the disappearances goes deeper than Ezra is prepared for, until she finds herself digging the grave of a terrorizing secret.
Forging a tense alliance with the Headmaster's sons, Ezra may be better off on her own as she discovers the boys are harboring dangerous secrets of their own. But the enemy is already here, and as children continue to go missing, Ezra realizes that she has to lay everything on the line to protect those she cares about…even her life.
---
five things i loved about the garden of witches
1. boarding school for witches
if there's one thing people love, it's boarding schools. put that with witches, and it's a win win, right??

2. magic
i mean, magic and witches go hand in hand.

3. mystical forest
who doesn't love a good mystical forest??

4. alternate history
i love alternate history in general, but salem alternate history??? god, i love it even more!

5. mystery
going into garden of witches, i didn't expect there to be a mystery. i really enjoyed reading about the disappearing students (not in the homicidal way. i like a good mystery, okay?).
---
star rating
garden of witches review
i've tried so many times to write out this review, and every time i've deleted everything to start again. i can't seem to get my thoughts in order and write a clear, concise review. to put it mildly, i lOVED THIS BOOK.
i know for a witchy story, there's bound to be familiars. witches familiars are easily one of my favourite things about them. i just love animals. and this book didn't fall short. there were so many emotions for these characters, and they didn't even have speaking parts.
the characters themselves were fun. ez was a great main character. she held the story well, although she had her "typical mc" moments (some things i disagreed with). asa and alder were extremely loveable. there's hints towards a love triangle, but garden of witches handled it really well. (where i'd normally roll my eyes and stop reading, i actually loved it).
there were plenty of plot twists, which i found exciting and unexpected.
overall, garden of witches was a fun read and i can't wait to see what's going to happen next.
please note: there are a few steamy scenes in this book, and a mmf sex scene.
---
meet salem sinclair
Salem Sinclair drinks too much coffee, swears like a sailor, and survives on slasher films and true crime podcasts. She has a full-time desk job on top of being an author + she's the mom of a pretty rad pre-teen. She also really hates talking about herself and doesn't know what to say in these things.
Instagram | Goodreads
---
enter the giveaway!
---
MTMC tour schedule
November 1
@paperfury – Bookstagram & Book Blog
November 2
@readresa – Bookstagram
November 3
@by_the_bookcase – Bookstagram & Booktok
November 4
@thereaderandthechef – Bookstagram & Book Blog
November 5
@theprioryreader – Bookstagram
November 6
@bookbriefs – Bookstagram & Book Blog
November 7
@readingmypages – Bookstagram
November 8
@the.magicalpages – Bookstagram
November 9
@yourbookishfriendcom – Bookstagram & Book Blog
November 10
@readmeinpastel – Bookstagram